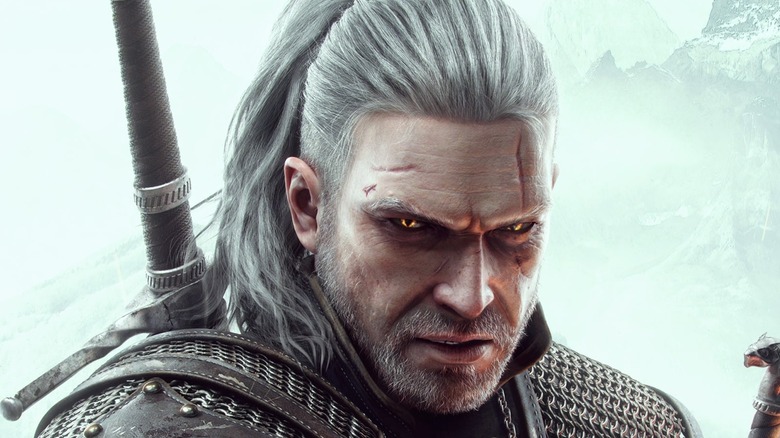 When Chapter 4 Season 1 of "Fortnite" started, there were plenty of things for fans to get excited about. A new map to explore and battle upon, shockwave hammers, and, naturally, a brand new Battle Pass that featured a bevy of goodies. One of the Battle Pass crossover skins introduced back in this season's gameplay reveal trailer was none other than everyone's favorite Witcher: Geralt of Rivia himself.
Despite his teasing appearance in the trailer, however, Geralt wasn't actually included in the Battle Pass as Chapter 4 Season 1 began. Plenty of updates, such as the reintroduction of the Siphon mechanic and the brand-new Falcon Scout have kept fans busy while waiting for good, old Geralt to arrive, but now he's finally ready and raring to go — kind of. Geralt and his various accessories are unlocked differently than most Battle Pass items, and players will want to earn them before they disappear.
Completing the Geralt of Rivia quests grants access to the skin and accessories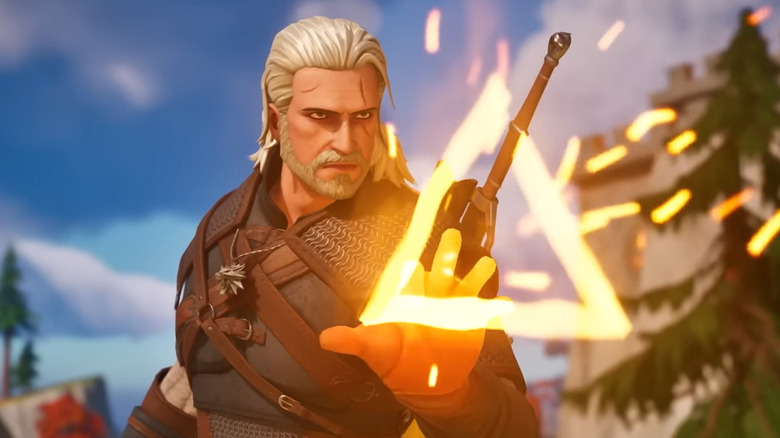 While the Geralt skin, Weapons of the Witcher Back Bling, Witcher's Steel Sword Harvesting Tool, and Igni Sign Emote are all part of the Chapter 4 Season 1 Battle Pass, players don't need to reach a specific level to unlock them. Instead, those hoping to obtain all of these Witcher sundries will have to complete some specific quests. Luckily, these quests can even be done without the Battle Pass. That said, collecting the rewards does require one to have purchased the Battle Pass.
Fortunately, most of the quests are fairly easy to accomplish. The easy quests include activating augments in five different matches, performing an emote in the Citadel throne room, and dealing melee weapon damage to opponents — which can all be completed quickly enough. What's rougher, however, are the quests that require players to complete three bounties and defeat a boss. These tasks are certainly much tougher when playing solo, but they can be made significantly easier if playing with a group.
Each one of the quests mentioned above unlocks a specific Witcher accessory, and it's only when all five of the quests are complete that players will receive the Geralt of Rivia skin itself. Again, some of the quests may sound a bit daunting, but there's plenty of time for players to work toward that Geralt skin. Players have a little more than six weeks before the Geralt of Rivia quests become unavailable on March 12. Witcher fans that would rather be safe than sorry better jump into some "Fortnite" sooner than later!