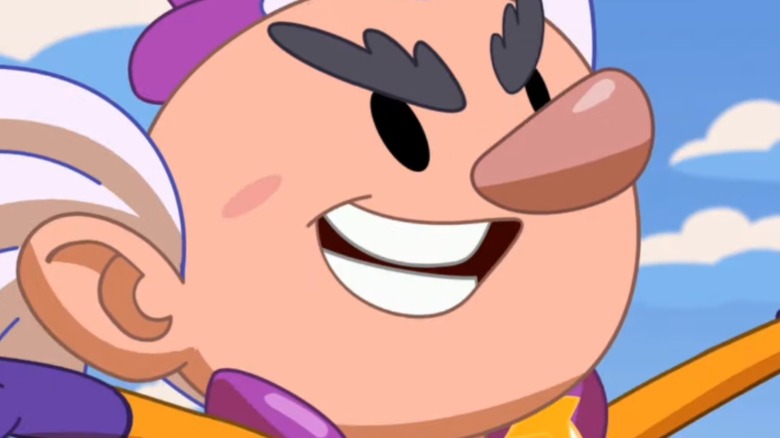 In a time when most superhero games are pushing for darker and grittier aesthetics, the newly announced "DC's Justice League: Cosmic Chaos" appears to be striving for a lighter and much more adorable tone. In this isometric action-RPG, three of the Justice League's most prominent members will have to take on the 5th dimensional imp Mr. Mxyzptlk in a battle to protect the town of Happy Harbor. Players will take control of ultra-cute, chibi-style renditions of Batman, Superman, and Wonder Woman as they join other heroes in the fight against chaotic evil.
"Cosmic Chaos" was announced by Bandai Namco Europe and is being published by Outright Games, a studio which has previously helped create other family-friendly titles such as "Nickelodeon's Star Trek Prodigy: Supernova," and "DreamWorks' Dragons: Legends of the Nine Realms." So fans can rest assured that the studio has a fair bit of experience adapting major IPs into fun gaming experiences. Many gamers and comic book fans alike will be eager to learn as much as they can about this new DC superhero adventure, so here's everything we know about the game so far.
Is there a release date for DC's Justice League: Cosmic Chaos?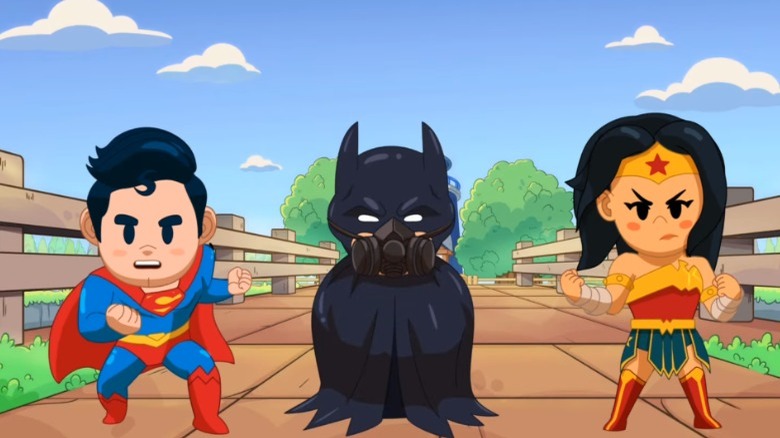 Those who are interested in playing "DC's Justice League: Cosmic Chaos" will first want to know when they will actually be able to get their hands on it – and there's great news on that front! It turns out that fans won't have to wait very long at all. The game already has a page on Steam which states that it is currently scheduled to be released on March 10, 2023. That's an incredibly quick turnover, as it means that the game will be hitting stores just three months after it was announced!
Of course, the next question is: Which platforms will gamers be able to play it on? Well, according to the game's official page on Outright's website, "DC's Justice League: Cosmic Chaos" will be "coming soon" for gamers to purchase on Nintendo Switch, PS4, PS5 and Xbox One. Interestingly enough, PC is not listed on the official page, even though it already has the aforementioned page on Steam. It's also strange that the Xbox Series X|S isn't listed since one of the promotional images of the game's case shown just below the announcement does in-fact say that it is for both the Xbox One and Series X. Despite these discrepancies, it's a safe bet that gamers will be able to enjoy "Cosmic Chaos" on just about every platform.
Is there a trailer for DC's Justice League: Cosmic Chaos?
Those who wish to get a closer look at "DC's Justice League: Cosmic Chaos" might want to check out the announcement trailer shared by Bandai Namco Europe. It opens with the Flash running through a sprawling town when he discovers several strange creatures have suddenly appeared. As the attack on the town plays out, Mr. Mxyzptlk's voice can be hearing saying, "Let's add some flair to this town. It's so boring." And that's the cue for the game's three main heroes, doused in the dust of the town's destruction, to leap into action.
From there, the video begins showcasing more of the in-game engine. Viewers can see Batman, Superman and Wonder Woman fighting droves of the strange creatures and several of the locales where the fights take place. There's Happy Harbor's town streets, a beach, an underground bunker, and some other, more exotic locations like the inside of a castle and some sort of gothic club. The trailer ends with Mr. Mxyzptlk exclaiming, "Holy mackerel, this is gettin' good." It's hard to disagree!
Overall, the trailer doesn't give a lot of information about the narrative of "Cosmic Chaos," but it does put the game's super high energy on full display.
What kind of gameplay will it have?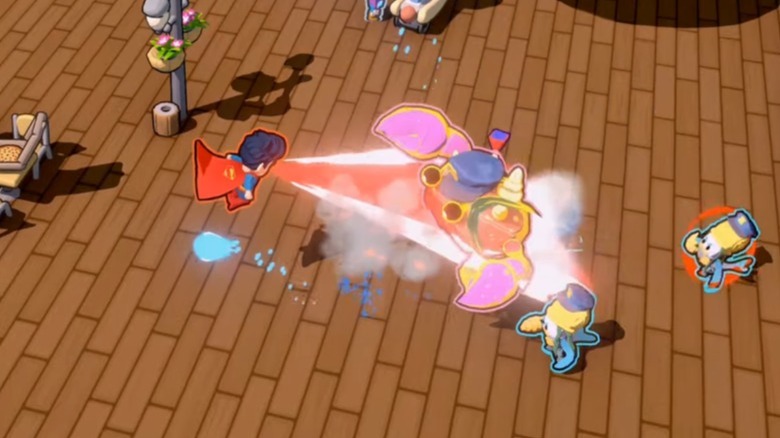 "DC's Justice League: Cosmic Chaos" is a top down action-RPG that feels reminiscent of some of the DC "LEGO" titles. It allows gamers to freely swap between Batman, Superman and Wonder Woman as they play. Outright's website says that players will be able to "help solve puzzles, defeat enemies and unlock outfits and special upgrades."
Many of the heroes' abilities are on display in the trailer. Viewers can see Superman using his laser vision and frost breath, Wonder Woman throwing her shield and using her Lasso of Truth and Batman using his Batarangs. The Steam page states that players will be using these abilities to "Unravel mysteries that lead to Super-Villains, bounties, and secret locations," suggesting plenty of side quests. It also appears that a large focus of the game will be on exploring Happy Harbor, driving through its streets as Wonder Woman in a vehicle, gliding from its rooftops at Batman or flying through its skies as Superman.
Lastly, players won't have to battle alone. Outright also states that gamers will be able to use an Instant Action Mode to activate two player couch co-op so they can save the day with friends.